Personal Property Appraisers
Specializing in Antiques, Fine Art
& General Residential Contents
from the 17th Century to Present
Since 1992, Harrison Appraisals, LLC has been providing its clients with formal appraisals of antiques, fine art, general household objects, estate items and other kinds of personal property.
We provide appraisals for many purposes including: insurance replacement, damage claim settlement, estate division and Trust matters, probate, divorce and court-ordered equitable distribution, tax-deductible charitable donations, determination of federal estate & gift tax liability, asset liquidation, and establishing value in anticipation of purchase.  We also offer expert witness testimony and litigation support.
By choosing Harrison Appraisals, you can expect accurate, reliable and confidential appraisal reports based on market research.  And unlike auctioneers and retailers who buy and sell their clients' property, we have no vested interest in your family heirlooms or personal items.
Knowledgeable, skilled and experienced, our appraisers are IRS qualified and USPAP compliant.  We serve a select clientele of private collectors, personal representatives, law firms, insurance providers, financial institutions and museums in Anne Arundel, Baltimore, Carroll, Frederick, Harford, Howard, Montgomery, and Washington, D.C.  Let us show you why Harrison Appraisals is Maryland's preferred appraisal firm.
A qualified appraisal can reduce your financial risk by providing an informed and unbiased opinion of your valuable personal property.
Insurance

Probate

Estate Division and Trust Matters

Divorce

Charitable Donations, Gift Tax and Casualty Loss

Damage Claims

Expert Witness Testimony and Litigation Support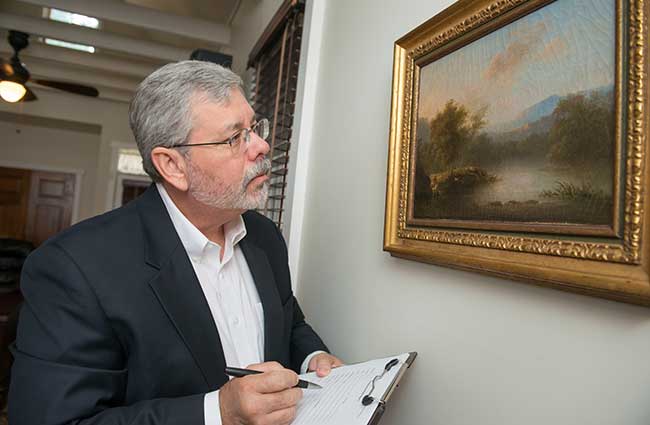 Professional & Qualified Appraisals
The appraisal process begins with a careful on-site examination of your heirlooms, antiques and fine art. Objects are identified, described and photographed according to form, style, design, artisan, period and provenance. When necessary, we can arrange authentication, videography or professional restoration services.